Home ¡ä News ¡ä YU and ARKEMA signed academic exchange agreement in organic electronics (10/17)
Home ¡ä News ¡ä YU and ARKEMA signed academic exchange agreement in organic electronics (10/17)
[News]
YU and ARKEMA signed academic exchange agreement in organic electronics (10/17)
On 17th October 2014, Yamagata University held the signing ceremony with ARKEMA, the France's leading specialty chemicals company, to further enhance the partnership between YU and ARKEMA for fostering global human resources in organic electronics field and others.

As one of the efforts to conduct the global research and foster human resources, YU has been collaborating with ARKEMA for 7 years through collaborative research in engineering field. YU has also implemented both domestic and international internship programs, sending YU graduate school students to ARKEMA laboratory in France and to ARKEMA technical center in Kyoto. ARKEMA had been already collaborating with CEA, French Atomic Energy Commission, and University of Bordeaux in organic electronics field. Aiming at future global operation, ARKEMA has added YU as its 4th base in order to accelerate research and development.

At the four bases of ARKEMA, CEA, University of Bordeaux and YU (mainly the group of Prof. Tokito, Distinguished Research Professor and Vice President of Research Center for Organic Electronics), the future commercialization of the research achievement is expected to accelerate, in regard to high-functional material technology by ARKEMA, printing technology by CEA, organic synthesis technology by University of Bordeaux, and organic transistor sensor (pulse, heart rate and bend sensors) by YU – through short-term/long-term mutual exchange of researchers and students.

For more details (Japanese), please click here.

¡¡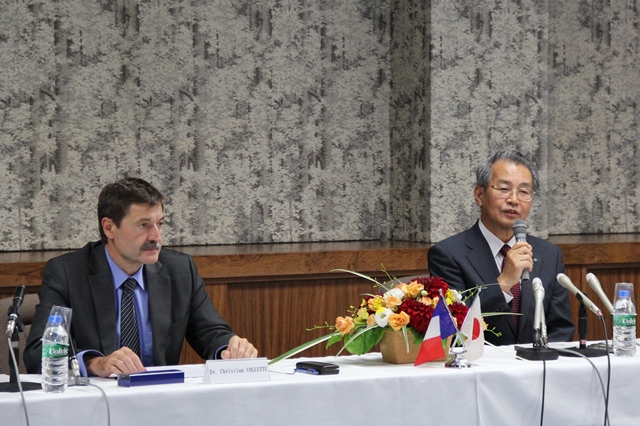 President Koyama's opening address
for the ceremony

Mr. Christian Collette,
Vice President and CTO of ARKEMA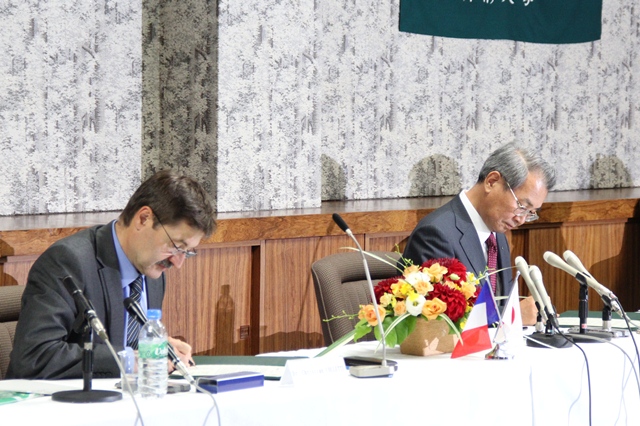 Signing the agreement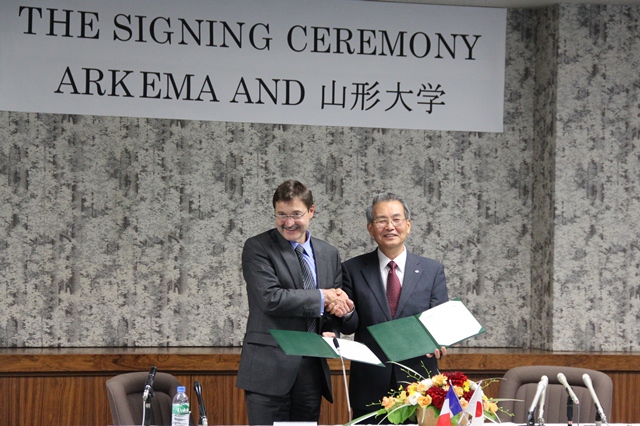 Shaking hands after signing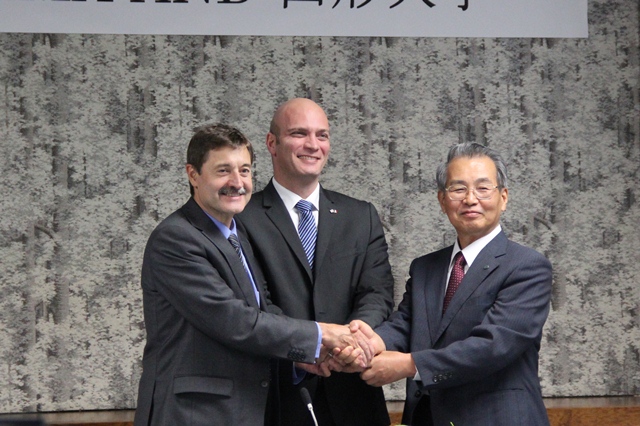 with Mr. Bruno Paing,
Japan Representative of CEA-DRT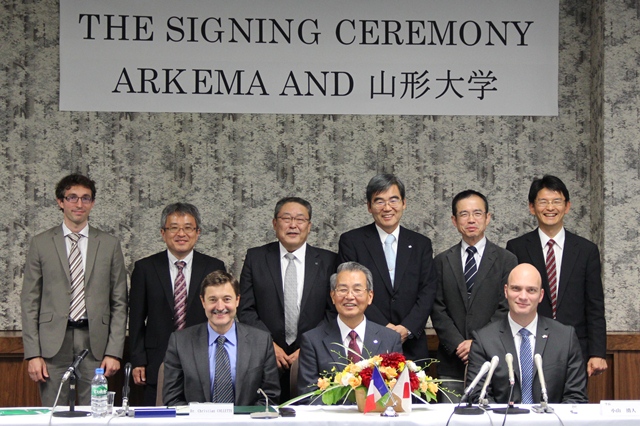 ARKEMA, CEA and YU staff