Home ¡ä News ¡ä Yamagata University Signed Agreement with the Peruvian Government to Protect the Nasca Geoglyphs (4/24)
Home ¡ä News ¡ä Yamagata University Signed Agreement with the Peruvian Government to Protect the Nasca Geoglyphs (4/24)
[News]
Yamagata University Signed Agreement with the Peruvian Government to Protect the Nasca Geoglyphs (4/24)
Yamagata University has agreed to cooperate with the Peruvian governemnt to protect the Nasca Geoglyphs from being damaged by land development such as housing construction.
Kiyohito Koyama, the President of Yamagata University, and Diana Alvarez Calderon, the Minister of Culture of the Republic of Peru, signed the agreement on the academic cooperation and preservation of the Nasca Geoglyphs on 23 April 2015 at the Grand National Theater of Peru in Lima.
Yamagata University will share the digital information about the Nasca drawings discovered by its research team, support the protection and monitoring activities, and enhance the cooperation with the local residents and organizations to recognize the importance of protecting the cultural heritage.
¡ü Please click here to read the press release (in Japanese).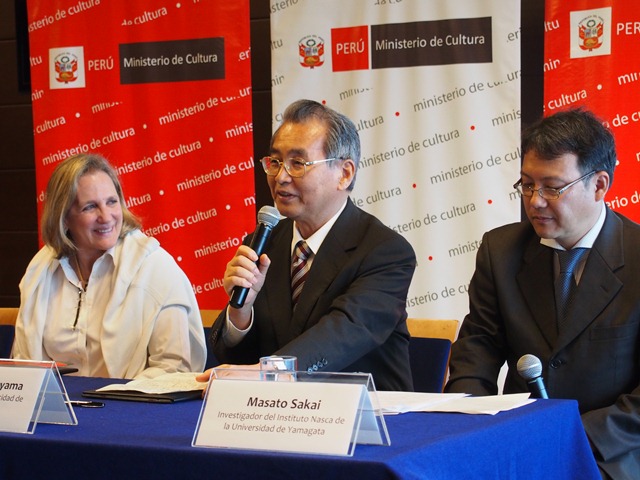 President Koyama's address (middle)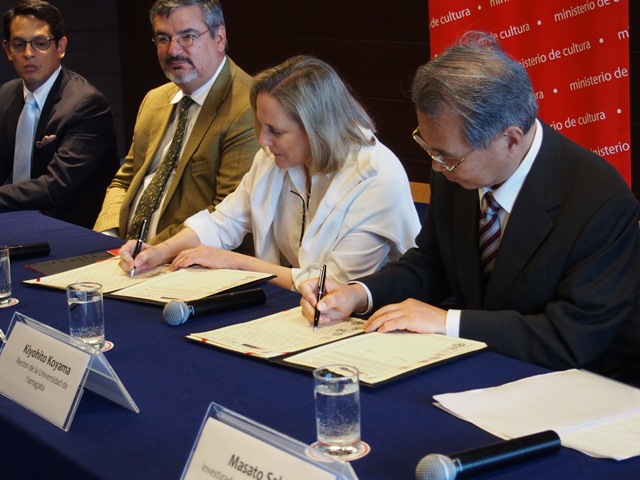 President Koyama and Ministar Calderon
signing the agreement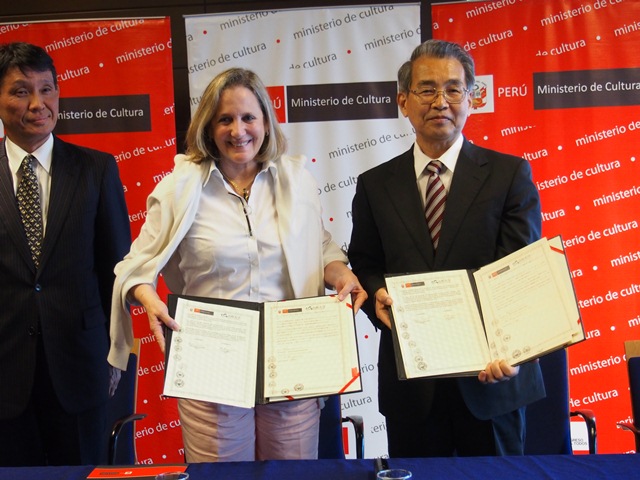 Showing the signed agreement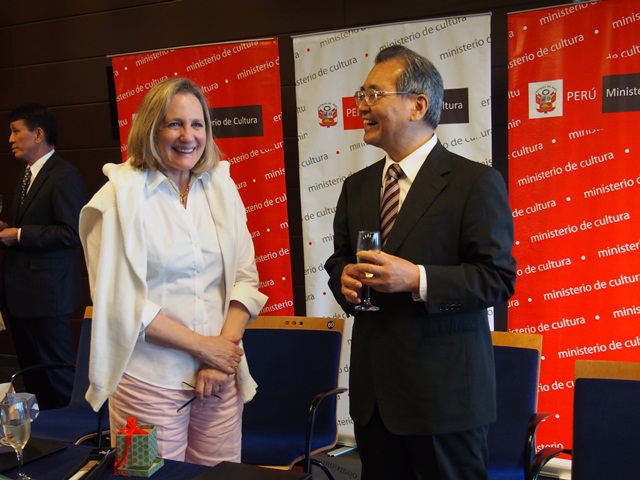 At the party celebrating the signing event
Yamagata University and the Nasca Geoglyphs
Since 2004, Yamagata University has been engaged in the research project led by Masato Sakai, the professor of the Faculty of Literature and Social Science, and continuously discovered large-sized drawings. To advance the research and protection of the drawings, the Yamagata University Institute of Nasca was founded in 2012.