Goals
The Yamagata-Andes Nations' Double Triangle Program will facilitate personnel exchanges and various joint undertakings between six major South American universities—in Peru, Bolivia and Chile—and Yamagata University and two other educational institutions in the prefecture. Through such work, the program aims to produce highly qualified personnel who can help promote natural resource development and international projects, while serving as a bridge between the three Latin American nations and the Yamagata region.
Outline
Under the program, Yamagata University—in conjunction with a university and a technical college in the prefecture—will start talks with four Peruvian universities, aa Bolivian university and a Chilean university regarding projects to dispatch and accept short- and long-term exchange students. Language education will also be discussed, with an eye on teaching Japanese in the South American nations, and the Spanish tongue in Japan. We are also parleying with Pontificia Universidad Católica del Perú regarding the establishment of a double-degree system. Long-term foreign students who wish to find Japan-based employment will benefit from Yamagata University's experience and achievements in sourcing suitable positions, particularly with firms based in the prefecture.
Fostering future-oriented personnel
Such individuals will also be skilled communicators in three languages: Japanese, English and Spanish. Ideally, they will also be enthusiastic, proactive characters capable of developing natural resources and engaging in cooperative international activities, and should be able to exercise leadership and unite organizations, while serving as a bridge between Japan and the Andean countries. Additionally, they should be cognizant of the diverse cultures, values, technologies and societies that define other nations, and be capable of planning and implementing projects with a fastidious eye.
Conceptual Diagram of the Program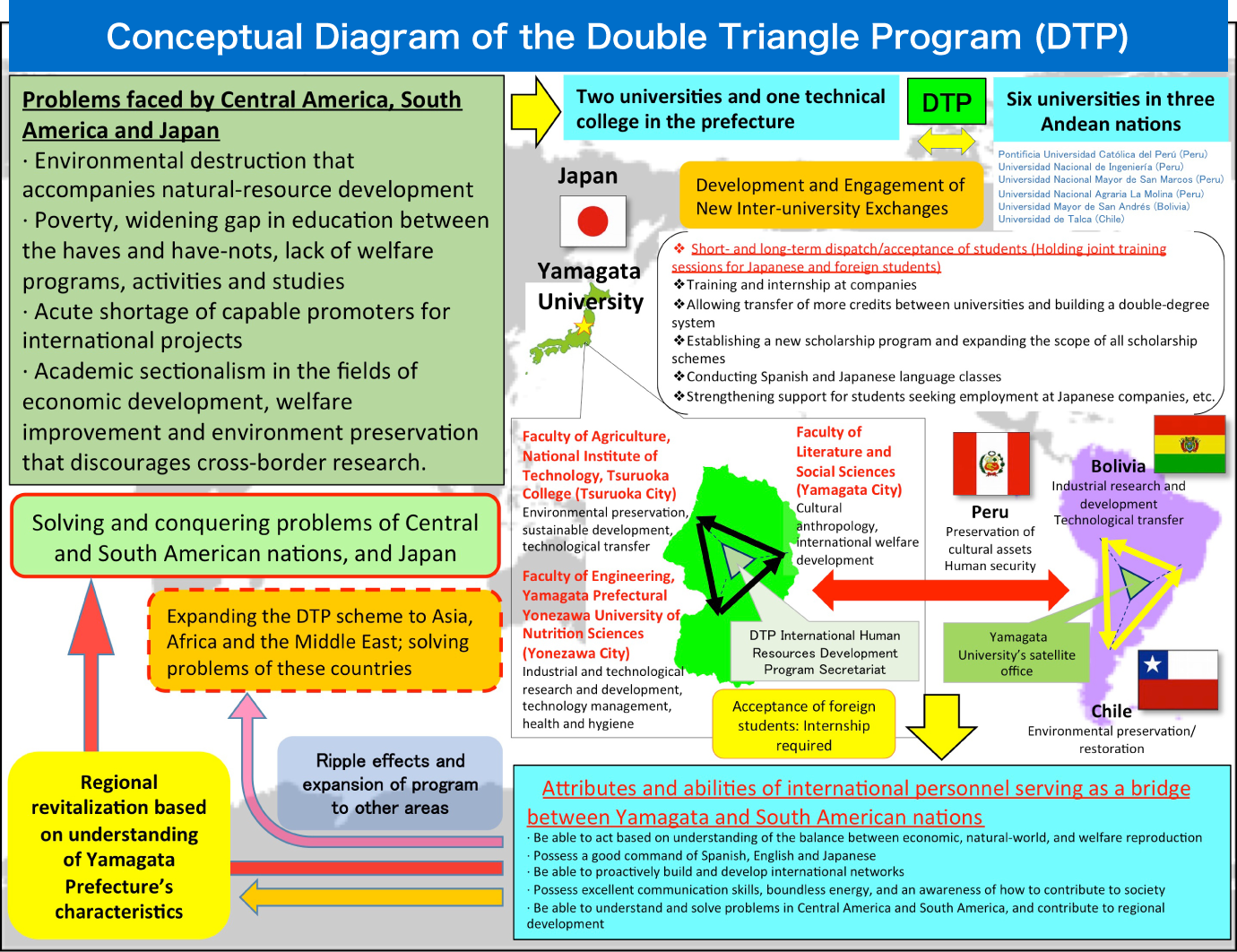 Pamphlet