Establishment History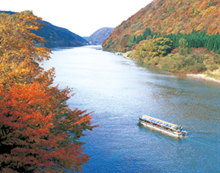 The Greater Yamagata (prefectural) area consists of rich natural bounty marked primarily by hilly and mountainous regions traversed by the Mogami River in the southwest and including a basin. Yet six of the eight townships and villages in the region have been designated as "depopulated areas" subject to the Special Law for the Promotion of Depopulated Area Sustainability.
Yamagata University from July through September of 2004 has been working closely with prefectural communities in a collaborative initiative called the "Yamagata University Revitalization Project: Jump into the Community", which canvassed colleges and universities to conceive of local revitalization plans via exchanges between local residents and college students and faculty, which were then drawn up and compiled with the help of educational council chairpersons in the region and presented to the government by project research students. Fueling this canvassing campaign was a burning passion by higher educational institutions in the Greater Yamagata area.
Because Yamagata University's guiding slogan of "Nature and human symbiosis" matched well with the region's "Supreme ecopolis" concept with "Building an ideal local society of Man and environment" as its guiding principle, a decision was made to mutually foster human resources. Through use of local village and township facilities, Yamagata University students began actively working with local residents and teachers to contribute to regional revitalization efforts and fostering of human resources anchored in their own interests and fields of study.
By March 22, 2005, agreements and covenants were entered into between the university and governments of 8 townships in the Greater Yamagata area for the purpose of contributing to both the advancement of education and regional development, ultimately leading to the establishment of "Area Campus Mogami."
Area Campus Mogami represents a brand new model for university and community collaboration in which the university does not possess its own proprietary educational research facility but instead utilizes public facilities in the local townships and communities for conducting research projects in what is dubbed a "soft campus" style. It is a model that is currently being extended nationwide.